KEI C. TSUMURA (1936 - ) was born on May 17, 1936 in Steveston, British Columbia the son of Kumetaro Tsumura, a very well respected Judo practitioner. As a young boy, Kei Tsumura practiced the martial arts under the watchful eyes of his father and teacher. While in his youthful pre-teens, he was exposed to the influence of various martial artists who would visit periodically or emigrate permanently to Canada and settle in the Steveston, B. C. area. Among the many visitors were Karate students and teachers who became guest instructors or demonstrated their art while practicing with his father. During his late teens, Kei Tsumura moved east to Toronto and attended university in hopes of becoming a journalist or author. Around this time, he met a fellow university student and Shoto-kan Karate practitioner Harry Ueyda, and they began to practice together. By 1960, Kei Tsumura had developed a passion for Karate-do and in 1961/62 began to take formal instruction from Sensei Masami Tsuruoka (regarded as the "Father of Canadian Karate") who first introduced the "Chito-ryu" system of Karate-do in Canada in 1956.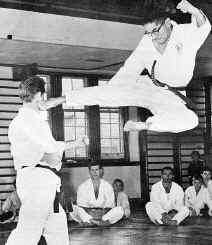 Tsuruoka Sensei demonstrating how to execute a perfect flying side kick.
Sensei Tsuruoka had established the first Karate Dojo in Toronto in 1958 and was the direct disciple of Grandmaster Tsuyoshi Chitose, the founder of the "Chito-ryu" system of Karate-do in Kumamoto, Japan.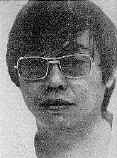 With the encouragement of Sensei Tsuruoka, Kei Tsumura helped established the "Nisei Karate Club" around 1963 at the Japanese Canadian Cultural Centre in Don Mills, Ontario and began to teach Karate. A while later he established the "Chito Karate Dojo" on Dundas St. W. in Toronto. After completing his journalism studies, Kei Tsumura became employed at an ethnic language, Japanese-Canadian newspaper in Toronto that was very instrumental in assisting the new Japanese immigrants in getting accustomed to their adopted country. Among these new Canadians were various immigrants with diverse martial arts backgrounds.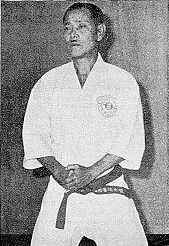 Dr. Tsuyosti Chitoso is the founder
of the Chito-Ryu style of Karate.
He was a tutor of Masumi Tsuroka.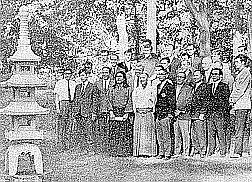 Front row (L-R): Sam Hayashi (JCCC), unknown,unknown,
Yamamoto Sensei, Dr. Tsuyoshi Chitose (Centre),
Sensei Masami Tsuruoka, Tom Saito (JCCC), David Akutagawa,
unknown, Mike Foster.
Second row: (L) Sensei Kei Tsumura
After careful consideration regarding the direction of Karate-do in Canada in 1968, Mr. Tsumura decided it would be in his best interest to travel to Japan to further his Karate knowledge.
In 1965, Kei Tsumura met a young gentleman by the name of Kawaguchi and began to practice with him. Mr. Kawaguchi was a direct student of Shihan Seiko Suzuki, 7th Dan of the Japan Karate-do Itosu-kai Remei, Tokyo, Japan.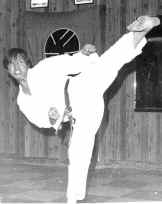 Perfect side kick

He was introduced to the founder of the Japan Karate-do ltosu-kai system of Shito-ryu by Shihan Seiko Suzuki personally, and a few days later, began to receive direct instruction from Grandmaster Ryusho Sakagami.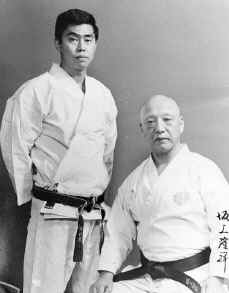 Master Tsumura with Grand Master Sakagami (seated).

Following a very intense period of study with Grandmaster Sakagami, Kei Tsumura was awarded the 5th Dan in Itosu-kai Karate-do and 5th Dan in Ryukyu Kobudo in 1969. Upon his return to Canada in late 1969, Sensei Tsumura established the Canadian Headquarters for the newly formed Shito-ryu ltosu-kai Karate and Kobudo Association, Canada at the Japanese Canadian Cultural Centre in Don Mills, Ontario.


Typical Karate class during 1969 at the Japanese Canadian Cultural Centre.
Front row (L-R): Sam Hayashi, Sensei Tsumura, Senpai Terry Nishikawa.
Many of Sensei Tsumura's existing students who had previously trained with him under the "Chito-ryu" Karate system for many years were encouraged to remain and adopt the new system of "Shito-ryu ltosu-kai". Over a period of time, many students eventually received their officially registered Black Belt rankings directly from the Japan Karate-do ltosu-kai Headquarters. Considered to be one of Canada's premier instructors of the early 1970's, Sensei Tsumura was requested by the President of the National Karate Association, Master Masami Tsuruoka, to serve as Canada's National Coach at the 1972, 2nd WUKO World Karate-do Championships in Paris, France.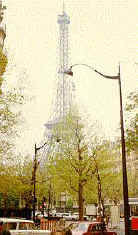 Paris, France
In 1974, Sensei Tsumura was an original pioneer member instrumental in laying the foundation for the formulation of the Karate Ontario Association (the sports governing body for Karate in the province). And in April, 1974 he had the honor of bringing Grandmaster Ryusho Sakagami and his son, Sadaaki, to Canada for the first time.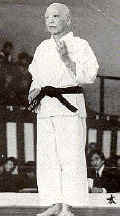 Master Sakagami performing Karate Kata Sochin
During 1975, he served as the Karate Ontario coach at the 2nd Canadian National Black Belt Championships in Moncton, New Brunswick.


Sensei K.Tsumura (Coach) third from right,
Mrs. Doreen Davies, 1st President of Karate Ontario (centre),
Sam Moledzki (Captain) next to her, and Bill Pinkerton, far left.
By 1976, he had become very disenchanted by the political atmosphere and withdrew his Shito-ryu Itosu-kai Karate and Kobudo Association's membership in Karate Ontario and the National Karate Association. Remaining steadfastly loyal to the Japan Karate-do Itosu-kai and Grandmaster Sakagami, Kei Tsumura was promoted to 6th Dan ltosu-kai Karate-do Shihan in 1979.
Shihan Tsumura is the only official representative of the Japan Karate-do Itosu-kai in Canada today. Among some of his more notable students were Sempai Terry Nishikawa, Dave Lindsay, Larry Bowman, Wally Rudnicki, Dave Manara, Bill Pinkerton, Eric Pick and Sam Moledzki.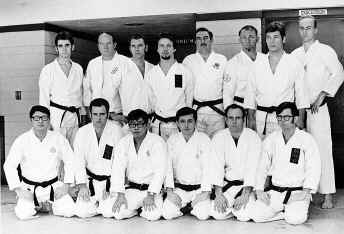 Front row (L-R): Sam Hayashi, Gerry Jeanotte, Sensei Tsumura,
David Lindsay, Denis Jeanotte, Rick Kerrigan.
Back row (L-R): Wally Rudnicki, Bill Murphy, Al Robinson, Sam Moledzki,
Derek Harbottle, Gord Grills, Larry Bowman, Al Jackson.
---
References/Bibliography
Tsuruoka Masami. Tsuruoka Karate School. 7th Canadian Karate Championships, Magazine/Programme: Toronto, Canada, Oct. 1968.
Tsuruoka Masami. Tsuruoka Karate School. 8th International Invitational Karate Tournament, Magazine/Programme: Toronto, Canada, May, 1973.
Moledzki Sam. Personal Data & Photograph Archives.