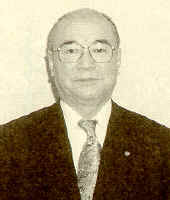 President, World Shito-ryu Karate-do Federation
SAKIO KEN was born in Tokyo, Japan on January 2, 1922. His introduction to the martial arts began at the age of eleven. As a young boy, he began practicing the art of Judo and Kendo as part of the middle school curriculum in 1933.
After successfully graduating from middle school Sakio Ken enrolled at the prestigious Toyo University in 1939. He immediately joined the newly formed Toyo University Karate Club and began receiving instruction Karate from famed Okinawan Toudi Master, Motobu Choki, who was the chief instructor at the University during that time.



Okinawan Toudi Master Motobu Choki
It was after Master Motobu Choki's decision to return to Okinawa, during 1939, that Master Motobu highly recommended his good friend and fellow Okinawan Toudi Master, Mabuni Kenwa to act as his replacement at the Toyo University Karate Club.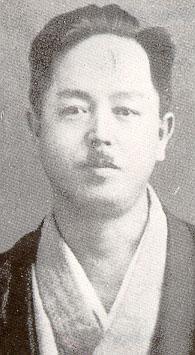 Master Mabuni Kenwa early photo as a young man.
During this period from July 1939, Ken Sakio studied with Master Mabuni. Later during 1940-41, he travelled to Okinawa where he received Karate instruction from a few other Okinawan masters such as Miyagi Chojun (founder of Goju Ryu Karate-do) Master Chibana Choshin (founder of Kobayashi Ryu Karate-do) and Master Gusukuma (Shimpan) Shiroma (direct student of Grand Master Itosu Anko of Shuri).
Sakio Ken recalls "from December 1941, when Japan rushed into the Pacific War, we all lived precarious lives. But, I was charmed by the personality of Master Mabuni and the appeal of karate, and I devoted myself to practice under Master Mabuni, valueing the short period of time left to me until my enlistment in April 1941. Master Mabuni was 50 years old then and reaching his peak. His lessons were so exhaustive, going into so minute details that I was constantly surprised by his vitality in seeking the essence of karate. I am ashamed that in spite of those kind lessons from Master Mabuni, with so much toil, I remain immature in the arts of karate."
In 1942, Sakio sensei was honoured with a 'Renshi' teaching license issued by the most highly respected Japanese Martial Arts Organization responsible for certifying all the martial arts, the Dai Nippon Buto-Kai.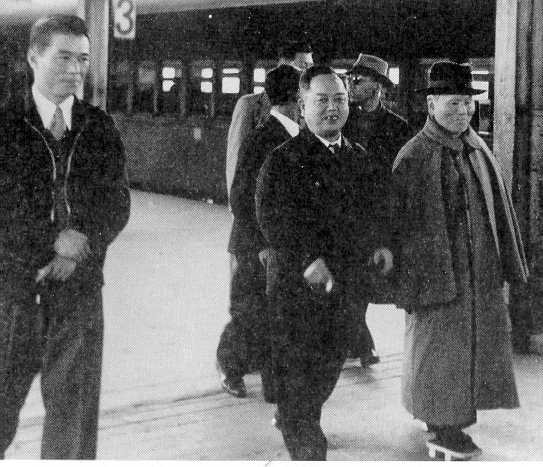 (L-R): Sensei Sakio Ken, Master Mabuni Kenwa and Master Funakoshi Gichin (wearing hat).
In the background directly behind Mabuni sensei is Nakayama Matayoshi sensei speaking
to Sakagami Ryusho sensei (wearing sunglasses and hat) with Obata Isao sensei in between.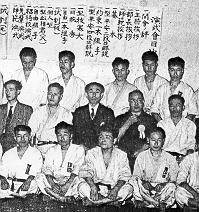 Middle Row (L-R): Rare photo, unknown,
Iwata Manzo sensei, Obata Isao sensei (Shotokan),
A.Lange & Sohne Replica Fujita Seiko (14th Master Koga-Ryu Ninjutsu & Namban Sato Ryu Kenpo),
Sakio Ken sensei.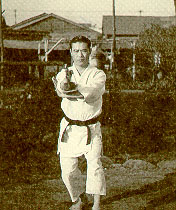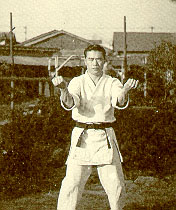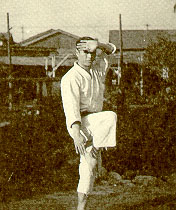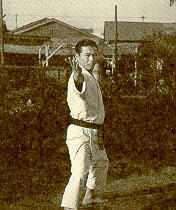 Sakio Ken performing moves from various Shito Ryu Kata such as Gojushiho, Suparinpei, Rohai etc.
By 1949, Sakio sensei had opened his own Shito-ryu dojo, the Seifukan under the supervision and with permission of master Mabuni Kenwa. He also became the karate instructor at the Shimizudani High Scool Karate Club as well as the Outemon High School Karate Club.
By 1953, Sakio sensei had firmly established a university karate Club at Kansai.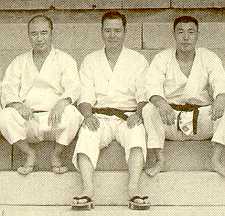 (L-R): Master Sakio Ken, Master Iwata Manzo, Ode sensei.
By 1969, Sakio sensei was appointed a representative of the Zen Nippon Karate-do Renmei (Federation of All Japan Karate-do Organizations-FAJKO) and a senior 'A' class Referee.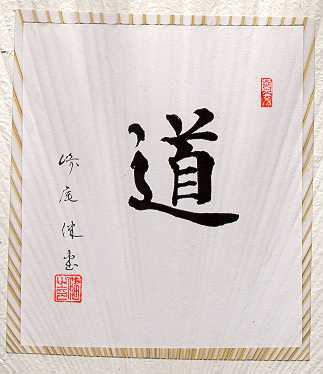 Sakio sensei's caligraphy
Sakio Ken sensei was honoured for his continuous outstanding contribution to the martial arts by receiving the 'Distinguished Service Award' from the Nihon Budo Kyougi Kai (Japan Budo Council) during 1992.
In 1993, Master Sakio was appointed the 'President of the Japan Karate-do Shito-Kai as well as President of the World Shito-Ryu Karate-do Federation after the very unexpected death of Master Iwata Manzo.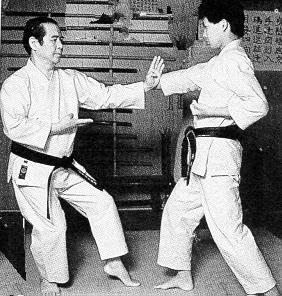 Replica Breitling Colt
Master Iwata (L) training in home dojo.
In 1994 Master Sakio was awarded 9th degree level of black belt from the Japan Karate-do Federation (JKF).
At the 2nd World Shito Ryu Karate Do Federation Championships in Puebla, Mexico during 1996, Master Sakio headed-up the Japan delegation and presided at the WSKF Congress as well as supervising the Kata and Referee seminars.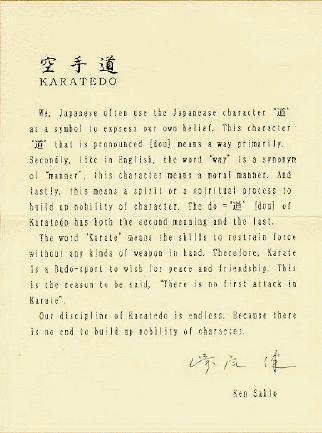 An example of Sakio sensei's philosophy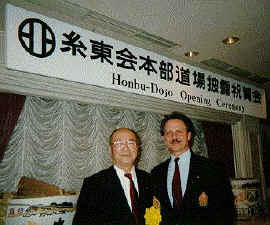 (L-R): Master Sakio and sensei Sam Moledzki, President Shito-kai Canada at 1997 opening ceremony of the World Shito Ryu Karate Do Federation Honbu dojo and Head Office.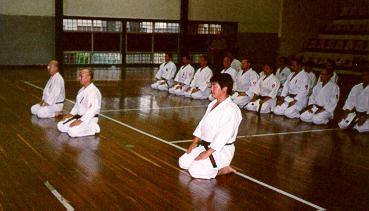 (L-R): Sakio sensei, Hisatomi sensei and Genzo Iwata sensei at 1998 Pan-American Shito Ryu Karate-do Federation kata seminar.


(L-R): Sakio Ken sensei, Mabuni Kenei sensei
and Hisatomi Tokio sensei.
---
References/Bibliography
Bushido Karate Magazine (France), March 1995.
Mabuni Kenwa/Nakasone Genwa Yoju-sha. Karate-do Nyumon. (Reprinted Edition) Feb. 28, 1996.
Moledzki Sam. Personal Data & Photograph Archives: Toronto, Canada.
Karatedo Magazine vol.305-Tokyo,Japan, 1998.
Habersetzer, Roland - Wado, Goju, Shito Kata Tome 2, Amphora
encyclopedie des arts martiaux, June 1994 (France).
YuKyu No Ken Shitokai Book, 1997.